One destination every Indian traveler think of is… United Kingdom. Either you are a tourist – Visitor – student or business traveler. Uk Is a must go for everyone. This page of Get visa services will give you complete guidance for any kind of visa. London is the capital city of United kingdom and it is one of the best fashion city of world.
Standard Vistor Visa –
This is the most common visa, This includes Standard business visa or Standard Tourist Visa. If you are planning to apply for standard visa, then visa is being issued for 06 month validity. If you want to travel frequently, then you can apply for 02 years or 05 years Visa as well depending on your requirement.
UK Transit Visa –
This visa is being used by many travelers visiting to other countries transiting UK. This is a mandatory visa, if you are taking transit flight from any British Airport. This visa is being issued for upto 48 hours only.
Processing Time
:10-15 days
Processing Time
:10-15 days
Processing Time
:10-15 days
Processing Time
:10-15 days
Documents required for UK Visa
While applying for UK Visa through Get visa Services, you need to prepare a big bundle of documents. But no need to worry, get visa services is here to help you to get UK visa.
Following are the documents to require UK visa –
Documents required for UK visa-
Your passport is valid for more than 6-months. Also make sure you at least have two blank pages available for the visa.
Bank statement of at least past three-months to prove you have enough funds for your travel.
Two 45mm x 35mm (passport-sized) photographs
03 years ITR
Additional Documents – Additionally, it's also important to have documents such as your tentative flight bookings, hotels, your UK travel insurance, copies of your passport, Supporting documents always make your application for a UK visitor visa from India.
Photo Specification for UK Visa
You need to provide 2 identical photos.
They must:
Photo Taken within one month.
Photos must Portrait that is in contrast to the background.
Photos Shouldn't be blurry, lined or marked.
Photos Printed in a white high-quality medium/low gloss or matt photographic paper, in color.
In Photos Both eyes should be open and visible. Covering eyes with eyeglasses or hair isn't permitted.
In Photos Face should be fully visible. Covering face is not permitted, neither with hair.
In Photos Head must be uncovered. Except when it is for medical or religious matters.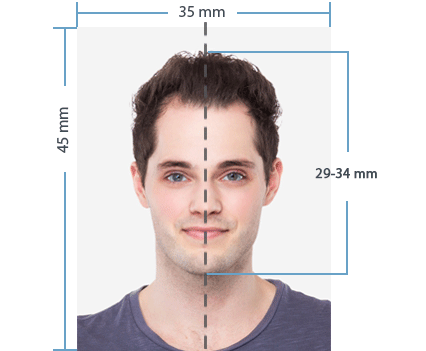 How many months prior to the travel should I apply for a UK Visa?
It is ideal to apply for a UK visa at least 3 months prior to the date of travel.
How to apply for a UK Visa online?
All you need to do is, log on to Akbar Travels website and submit your request, we will take care of the complete UK Visa application process right from getting your documents ready to receiving your visa. We are experts in the travel and tourism sector with over 40 years of experience. Through our expertise, in-depth knowledge and integrity, we commit to delivering an exceptional experience to our customers each and every time you use our service. In order to help us understand your unique visa needs, please drop in your query and our UK Visa Expert will get in touch with you.
How to apply for UK Visa Online:
Choose your preferred type of UK Visa based on your Travel type
Make payment online
Submit documents online on our portal
Receive your UK Visa once approved
Can I apply for the UK Visa myself?
It is advisable to process your UK Visa through us as many a times UK Visa applications are rejected by the UK Visas and Immigration not due to the calibre and suitability of the applicant, but because of simple errors in the application itself. With over 10 years of combined experience we will assist you to obtain all the necessary supporting documentation and prepare your application, ensuring your UK Visa application stands the best chance of success.
Do Indians require Visa to enter Indians?
If you are an American – Canadian or Australia passport holder , then only you don't need visa to enter UK. So answer is yes, Indians need visa to enter United Kingdom. And not to miss, getting uk visa is bit tough in comparison to other countries. So, it is very Important to have a proper documentation to avoid refusal from UK embassy. Get visa services will help you to get visa.
How to apply for Australia Visa from India?
The process to apply for UK visa is more convenient now. You can send all your above mentioned documents scanned copies on our email or wats app – +91-9810545760 ). Or you can apply through VFS also. You can take appointment online. It will take at least 03 weeks after your appointment date to get your passports and visa from embassy.